M-Commerce or mobile commerce is a broad term that is used to describe all commercial activities in today's world. Right from making payments online to shopping online, m-commerce apps help to make the day-to-day tasks easier for the people. Shopping, entertainment, internet surfing, and other tasks become easier. Payment gateway giants make around 1.5 billion dollars of payments through mobile alone.
Important Facts
• More than 235,000 business websites today use Magento 2
• Magento powers 4.2% of the online websites
• 11% of the websites using Magento are based in the US.
• By the end of 2021, 53.9 percent of all retail ecommerce sales would be generated by M-Commerce
• There has been 42% increase in the sales made by Magento 2 stores in 2019
All the ecommerce activities are performed via mobile devices by the users these days. This is the major reason why Google made it compulsory for the websites to be responsive. Mobile friendly websites are the need of the hour. That's where Magento 2 comes into the picture. Magento mobile commerce provides flexible options for developing online ecommerce stores. The latest version of Magento 2 supports responsive designs by default. So, the mobile owners would not have to worry about responsiveness of ecommerce websites when they select Magento 2 web development for their business.
What all can be done with mobile devices?
• Catalog management
• Marketing or promotional activities
• Order and invoice management
• SEO functionality
When you compare Magento 1x versions with Magento 2x versions, you would find the following advantages:
Better frontend in Magento 2
• Delivers seamless UX
• Modern responsive web design libraries
• Modern tools for mobile users
• Google and SEO-friendly websites
What makes Magento 2 a preferred choice for M-Commerce owners?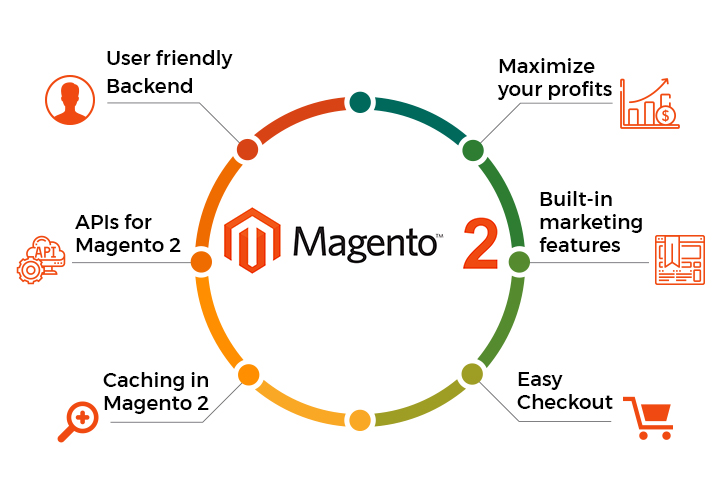 User friendly Backend
Magento 1's backend was developer friendly, but the end users found it difficult to make the changes to the website. Magento 2x solves this problem, and allows small to big changes without the need to hire a programmer or a developer.
Mobile friendliness of Magento 2x makes the lives of M-Commerce owners easier. It also includes marketing as well as merchandising features. Magento 2 ecommerce owners can access the backend of the website from anywhere, at any time.
APIs for Magento 2
Magento platform is known for its modular approach for frontend and backend interface. If there are too many internal and external service modules, then the designers may find it difficult to integrate them. Various APIs for Magento 2 solve these issues. Magento 2 API helps to add the required functionality to the M-Commerce store. Developers can make use of the best APIs to add the required feature and provide a seamless user experience to the ecommerce shoppers.
Related Blog – Magento 2 Multi Source Inventory (MSI) features for ecommerce
Caching in Magento 2

Checkout is an important step in the process of online shopping. Cart abandonment is a major concern for online store owners. It results in revenue loss and losing customers. A fast and secure checkout can be a good option to reduce cart abandonment rate. Adoption of Magento 2 makes the checkout process safe and easy to use on various devices. Experienced Magento 2 web development agency can help you plan a simple and easy 1 step checkout to increase your online sales.
Built-in marketing features
Another major reason why Magento 2 is considered to be an ideal choice for M-Commerce is that it offers in-built marketing features. The drag and drop functionality, wishlist creation, customer segmentation, visual merchandizing, and optimized product category pages are some of the important features that promote your store and products for higher conversions. If you want to build an ecommerce store, Magento 2 can be the right option to boost your sales and profits.
Maximize your profits
Research shows that online customers prefer to shop from merchants that offer a well-optimized web stores. There has been a paradigm shift in the consumer behavior as the shoppers move from desktops and laptops to mobile devices and tablets. Magento 2 can help you maintain a consistent browsing experience to the visitors no matter what device they use.
Cost effectiveness
Magento M-Commerce is a preferred choice of users when they look for building a cost effective ecommerce store. There is no need to pay monthly subscription and you can get affordable and cost-effective ecommerce solution for selling unlimited products, and managing transactions online.
Magento 2 offers a free version for startups and small business owners. They can select the free edition to build their first ecommerce store. Even a layman can manage the website online without any special knowledge or costs.
Related Blog – How Much Does a Magento Website Development Cost
Final Words
There's no doubt that Magento 2 is the best option for M-Commerce stores. Being user-friendly, flexible, and extremely productive mobile commerce solution, Magento 2 provides great benefits to the users and developers across the globe. Hire Magento 2 developers to help you maximize your sales. Whether you want to build an ecommerce store from the scratch or planning to migrate your existing site to Magento 2, choosing the right Magento website development company can be one of the best decisions of your life.