virtual reality applications & its advantages
Hey buddies,I am here to share something I know about virtual reality technology .First of all, what is virtual reality ?Plainly speaking , I got a vague idea about this when I was in 10th standard. You guys must be remembering the fiction " virtual reality True" by Paul Stewart and it can come to your notice that the headline of this blog is also the same .
Basically, virtual reality is an artificial environment that is created through a software and is presented to the user in such away that the user accepts that environment as the real one (virtual reality). The user becomes the part of this near-reality world and is able to manipulate the objects and perform a series of actions in that world. Like if you are playing some action game on your computer with all your virtual reality systems on, then if you are falling down in that game or a bullet is coming your way , you will have real feeling that you are going to die . Your neuron system will become active and your heart will really stuck up for a moment.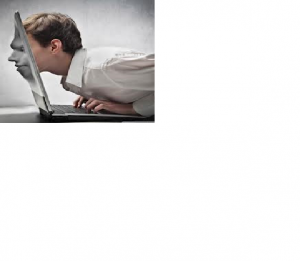 See how immersed you will be in that game . That effective is this virtual reality.
Now the question has raised in your mind that how do this virtual reality work ?
The software program for the game is the crucial element . Each and every character or the object in the game behaves closely as the reality according to the code written for them .This code interpreted by the processor which handles the input- output devices accordingly helps the characters controlled by the input devices .
The more immersed (virtual reality)VR environment works the same way as the above stated just with a number of advanced input and output devices along with high performance processor.
How to enter this (virtual reality)VR environment and what are its requisites ?
This environment can be created on computer based platforms ranging from smartphones to desktop computers to fully immersive virtual environment.
Main components of (virtual reality)  virtual environment are :-
The visual displays that indulge the user in the virtual world and blocks out contradictory sensory impressions from the real world.
A graphic rendering system that generates the ever changing images at 20-30 frames per second.
A tracking system that continuously informs the position and orientation of user's movements.
The database construction and maintenance system to build and maintain a detailed and realistic model of the virtual world.
A sound system that can produce high quality directional sounds and simulated sound fields.
Devices like tracked gloves with push buttons to enable users to specify their interactions with the virtual objects .
Just as the headphones take over the sound .  In the same way, VR headsets take over the vision . There are mainly two types of VR headsets.
One which can hold an accessory like smartphone which can act as a screen . As the smartphone has all the gyroscopic systems etc. already installed in them so it doesn't need any other system to be attached . For example : Google cardboard , Samsung gear VR , etc.
Other one is the standalone VR headset which has all the system built in like gyroscopic sensors , etc. For example : Oculus Rift , HTC Vive , etc.
Let's have a look at it .
GOOGLE CARDBOARD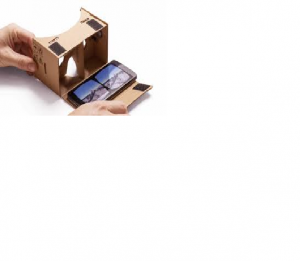 Google came out with its cardboard VR headsets in which a smartphone can be popped into a cardboard container and then can be strapped to your head. As the smartphone contains all the necessary gyroscopic sensors and positioning system to accurately track your movements, so there is no need of any other device to be attached .
SAMSUNG GEAR VR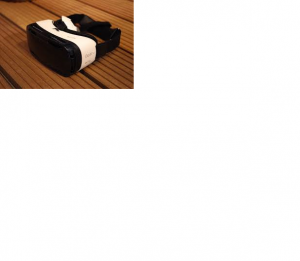 The gear VR is an Oculus Rift powered device that uses a Samsung Galaxy smartphone as its processor and display. The galaxy handset simply slots in front of the lenses, into a micro USB dock, and uses its super AMOLED display as your screen.
 OCULUS  RIFT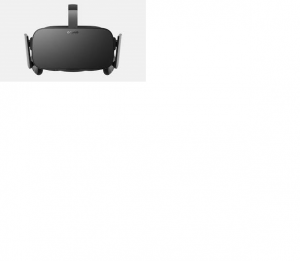 The Rift is a virtual reality head mounted display developed by Oculus VR . It has a resolution of 1080 X 1200 per eye, a 90 Hz refresh rate and a wide field of view . It has integrated headphones which provide spatialised audio . The rift has full 6 degree of freedom , rotational and positional tracking . The positional tracking is performed by a separate tracking unit , which is included with each rift and normally sits on the user's desk . This system allows for using the rift while sitting , standing or walking around the same room .
MICROSOFT HOLOLENS
Microsoft Hololens is half virtual and half augmented reality . The device merges real world elements with virtual holographic images , meaning you can look at your video game world on your study table or walk around the surface of mars in your living room . It can recognize gestures and voice commands , has 120 degree field of vision on both axis and is capable of HD visuals . Also, there is no connection to a PC – a full WINDOWS 10 system is built into the headset and runs off a battery .  Hololens is comfortable for the people who are very sensitive to motion and prone to get VR sickness which can happen when you trick your brain into thinking that it is watching something real .
Books & reading , movies and TV shows , games ,news , planning , shopping , ordering , buying , banking , travelling , studying , playing (how can we forget that) , even transportation and many more will be accessible via virtual reality .
So, we saw how the VR technology is growing gradually and having its use in all the possible fields. In the upcoming years , it is very certain that our things will be done actually in a virtually real world by just sitting at our home . . I think that time is no far when we will be able to visit our near and dear ones in no time without actually travelling there .
That's all I wanted to share with you … Hope you liked it and gained something from this Websoles blog Post .
follow us on twitter/ @ websoles